作者:Frank Proue 蒲乃光 校友(1973年物理系畢)
My Campus Life
First I would like to apologize that I am writing this in English l because I am not skilled in using the Chinese word processor for this article.
By fate, I was assigned to the Physics Department 45 years ago in 1969. Although Fu Jen University was not amongst my top three choices of universities on my College Entrance Exam wish list, it was one of the best gifts that I have ever received. With both disappointing moments (including my flunking of the freshman Philosophy class that I took from Father Min,閔神父 ) and happy events, I thoroughly enjoyed my 4 years staying on campus.
I arrived in the United State in 1976 and started my graduate studies in both Physics and Electrical Engineering departments at University of Minnesota. Having spent almost 38 years in Minnesota, the thought of Fu Jen has always brought joyful and sweet memories, which seemed to have happened only yesterday,
Four years may pass quickly nowadays. However, the four years that I spent at Fu Jen seemed to last forever and I wish it was so. I would not think twice if I could experience it all over again. I am not good at writing. But I am lucky that at least I have kept some pictures that can tell the story about the alma mater that I loved.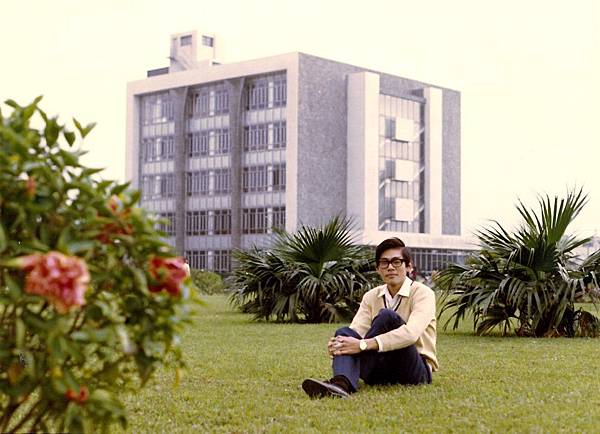 In 1970, the College of Natural Sciences library was just opened. It was a great place to study and also a great place for dating J


Since the College of Natural Sciences cafeteria (next to the library) was still under construction at that time, lots of our meals were fulfilled eaten in the College of Law & Business cafeteria and College of Literature cafeteria where special Cantonese dishes could be ordered. I loved the campus. It was such unforgettable experience walking along the trails in the campus at dusk, watching sun set against the clear sky and beautiful surrounding Tai San. It did have some advantage when the buildings were few and trees were young and short.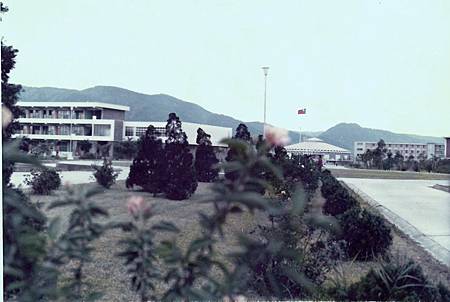 Physics classes were tough. My favor classes were electric/electronic labs and optical labs. We learned so much from the well written lab instructions and fun lab instructors (Instructor 老大李尚凱, and 孫瑪麗).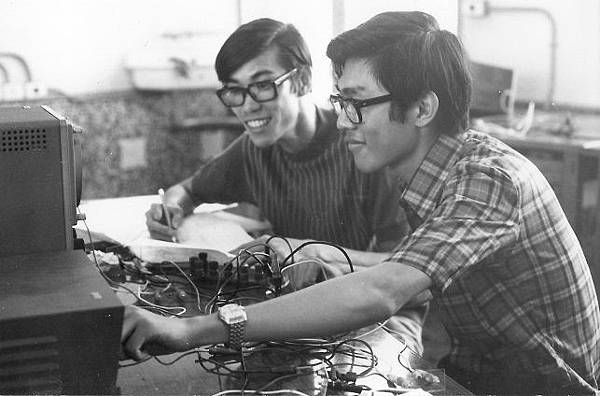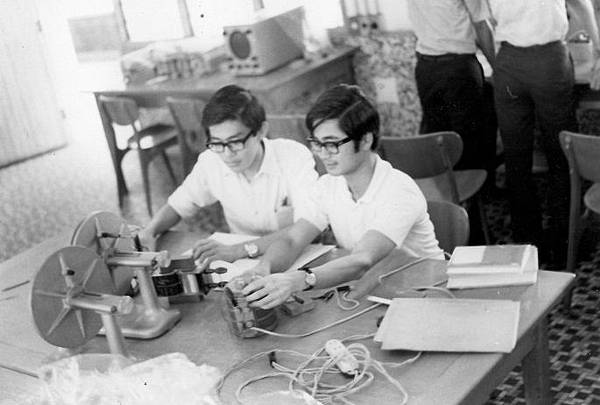 In the 1970's one could able to see almost everywhere from the top level of the College of Natural Sciences 1st boy dorm. The following three pictures show the buildings around.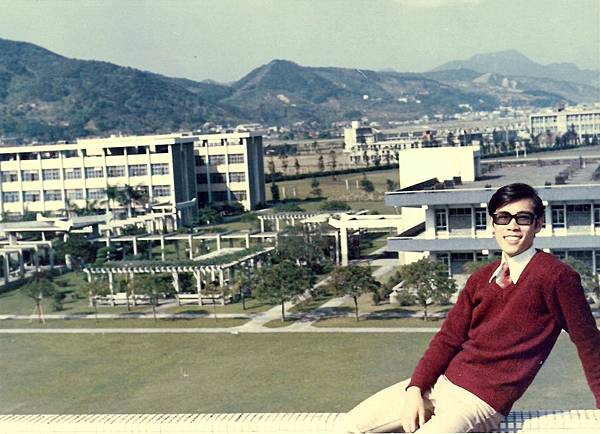 My roommate 劉錫敏 at the 1st dorm.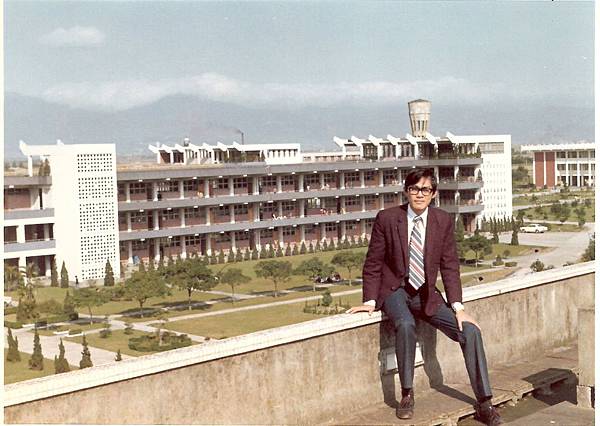 This is me (蒲乃光 ) in 1973.
This is a picture I took from College of Natural Sciences 1st Boy Dorm in Oct 2006 when I went back to Taiwan and visited Fu Jen. The mountain and cloud behind remain the same, but the campus is totally different.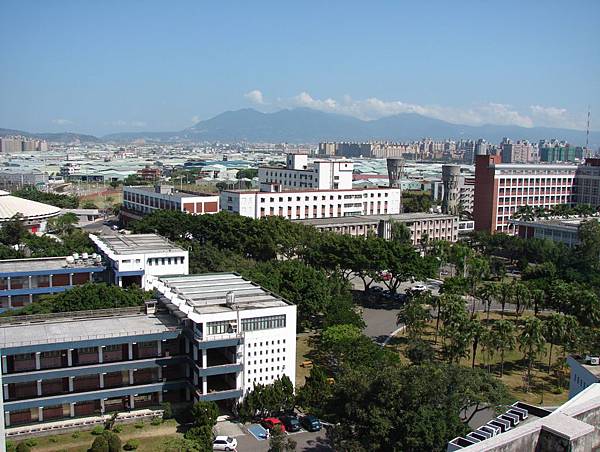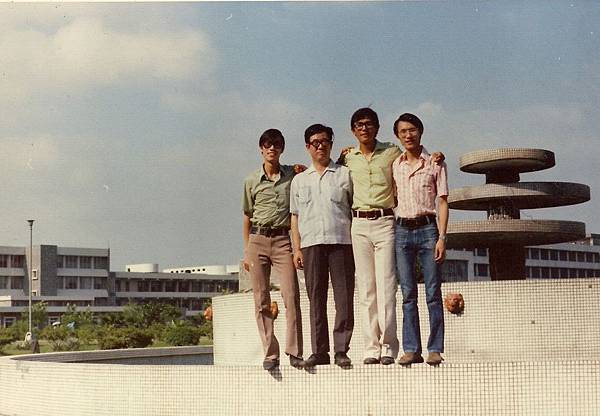 My classmate from the Physics department in front of the College of Natural Sciences water fountain.
From the left.劉錫敏, 老大李尚凱蒲乃光, 林慶儀
I graduated in 1973. Knowing that we were soon departed, five of us best friends (林慶儀, 劉錫敏, 胡澤銘, 郝神父, 蒲乃光, 陳瑞凱) took some pictures around the campus. One was with our department chair Father Hesselfeld, who has passed away in 2010. Father Hesselfeld was not only a knowledgeable physics teacher but also a great friend. He always tried to find the best teachers for us and I am so glad that we had this picture to remind me of the wonderful experience I had at Fu Jen.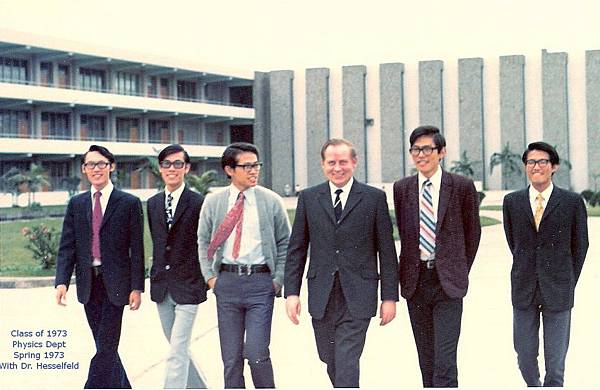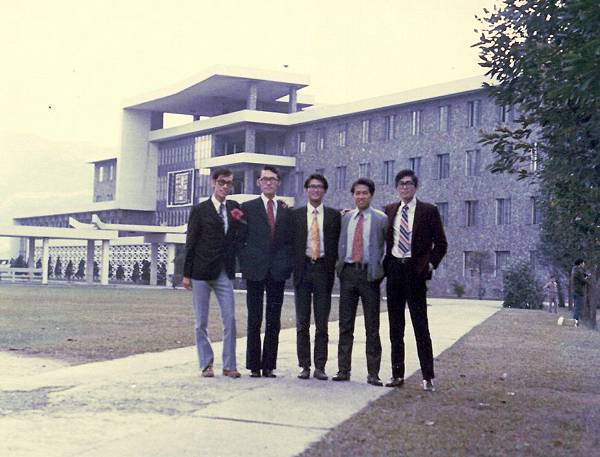 劉錫敏,林慶儀, 陳瑞凱,胡澤銘, 蒲乃光, 1973
I believe many alumni had similar pleasant experiences during their staying at Fu Jen. Distance has kept me from visiting the school as frequently as I would like. At the 50th anniversary of the Physics Department this year (2014), I would like to express my gratitude to my staying at and education received from Fu Jen. I am pleasantly surprised that the memory of friends, teachers, buildings and many events are lively existing in my memory after more than 40 years. I consider myself lucky to have spent my college years at Fu Jen. Hopefully I will be able to walk around the campus soon in the future.